There's a Disney quotation or lyric for everything, isn't there?
My husband says that the entire movie of Emperor's New Groove should be made into GIFs.
He's not wrong…
The other day, my kids wanted to watch a movie. Considering it was hotter than the surface of the sun outside and the babykins was cranks from teeth coming in, I acquiesced and found myself overhearing snippets and songs from Hercules while cleaning the kitchen.
I began wondering how many years ago that movie came out, but stopped. It was a little discouraging… besides, I had already put away the math manipulatives. Ha!
Anyhoo, I'm wiping down counters when I hear teen Hercules singing "I can go the distance." Applicable in the whole mothering thing in general, yes? But the phrase that kept repeating in my head after the song had stopped and the movie had moved on was "I would go most anywhere to feel that I belong."
Man, I didn't think I'd relate to a pubescent demi-god so much at this point in my life.
Motherhood has given me an identity crisis of sorts… and I know I'm not alone.
I'm reading a book right now for mompreneurs that hits on this fact.
It's called Boss Up! by Lindsay Teague Moreno. It's good. If you find yourself doing a side hustle or not-so-side hustle while homeschooling, you'll find it super helpful. Inspiring, even. And a kick in pants, if you are needing motivation that a business is worth doing as a mom. The book acknowledges that motherhood isn't as fulfilling for some women as we assumed it would be… and how some women aren't happy being stay-at-home-moms and regret that decision. You know what? It's true. I think it isn't talked about as much as it should be– that motherhood isn't what we thought it would be and doesn't complete us like we were told it would. But wanting to stop being with my kids to go back into the workforce full-time or heavily part-time? I don't fit in that category.
Here's my thing: I want to "stay at home." I want to teach my kids. I love this homeschooling gig. I love reading stories to my kids, and doing art with them, and seeing their little ah-ha moments. I love planning learning units. I'm a curriculum junkie… I love it! It fulfills me. It lights my fire.
It's the day-in, day-out other stuff that I lament. Warning: I'm about to sound like my 3 year old when he drops his ice cream cone on the ground, okay? I completely understand that I don't sound like a "mature" adult that is supposed to have her "big girl panties" on.
But the constant straightening? The constant dirty clothes and putting away clean ones? The constant wiping down puddles on sinks and rings in toilets? The constant making sure everything is up off of the floor so my crawling baby doesn't choke on the trail of rocks my boy likes to sneak inside? The constant looking around and seeing 1,000 things to do that I have no desire to do? The undoneness of all the things that I don't have time for that reminds me of all I didn't get to when I've been busy all dang day?
The pretty-much-constant-unless-we-are-actively-engaged-with-school-or-mom fighting between my two oldest (6 and 3 yo)?
THESE things. They wear my soul down. Make me feel like I'm slowly drowning in things that must be done and tolerated instead of things that bring joy.
I used to teach college. Now when I teach outside of the home, it's to upper-grade highschool. And sure, there's some mundane-ness to teaching. Grading isn't my favorite… but I love the privilege of seeing minds sharpened. I love how the act of learning benefits ALL– student and teacher alike. I feel like my energy and effort is "worth" something, versus folding underwear. Or <<shutter>> sifting through kids' clothes to swap out sizes.
To borrow from yet another Disney song…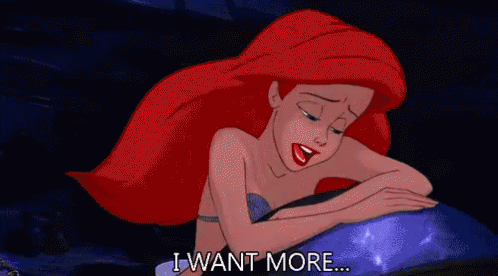 Basically, I want to homeschool my kids, soak in all the moments with them, outsource all the stuff I don't want to do, and invest the time doing laundry and cleaning and and and…
into something else.
Into the business that I have on the side. It's not even a want, really. It's a need.*
I don't want to be 100% home. I don't want to be 100% outside-the-home, either.
I want what I want from both.
And I realize as I type that how completely unrealistic that sounds.
I think that's why the idea of Essentialism appeals to me so very much.
Less, but BETTER.
I 100% agree with McKceown that "only once you give yourself the permission to stop trying to do it all, to stop saying yes to everyone, can you make your highest contribution towards the things that really matter."
I think for women that want the best of staying at home, and want the best of contributing in external ways (like me)… we don't feel like we belong in the SAHM camp OR the working mom camp. So, we end up trying to do BOTH… and that's just. not. possible. (Enter burn-out.)
Something has to give.
It makes sense to keep what brings you joy, what you are good at, what gifts contribute to others' good the most– and somehow say no to the rest.
Is that selfish? Or is that "essential?"
Because I'll be honest. I didn't decide to stop teaching college to stay home and clean my house all day. I did it so I could spend time with and educate my own children. My side job? It's a flexible thing that I like doing that allows me to be present for my kids– not free up hours to sweep and referee at the same time.**
So, besides spending money (that I can't currently budget) to bring in someone to do what I don't want to do, what's the answer?
Let the non-essentials go? Ignore them, despite the chaos it would cause?
Keep doing the non-essentials, despite the fact it wears on happiness and prevents solid time investments in a side job that would make it possible to financially afford concentrating on the essentials the way you want?
Are there any fellow women that land in this no-man-land's of Motherhood? One foot in, one foot out of this SAHM, Working mom thing?
If so, I'd love to learn from you! Tell me how you handle this odd internal conflict AND how it practically looks for you in your home! Let's encourage each other!
Comment on this post. Find me on facebook. Or connect with me on Insta or my page.
Let's be friends!
*My business needs more of my time. But I don't want to sacrifice my time with my kids for it. I will sacrifice bathroom clean-up. But I still need bathrooms to be clean… See the conundrum?